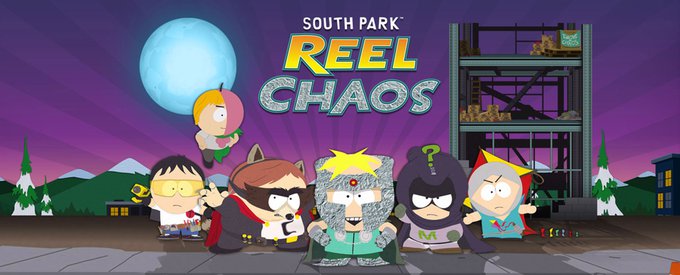 South Park Reel Chaos Slot Review
South Park Reel Chaos slot machine is the second South Park-themed slot machine from NetEnt. If you thought the first game was brilliant, then you are in for something special here.
How to Play South Park Reel Chaos Slot Machine
The South Park Reel Chaos slot machine has been developed by NetEnt. It is a 5 reel, 20 payline game. The minimum bet per spin is 20p with the maximum being £100. It is a higher variance slot machine.
To enjoy the theme of this game, you must have an interest in South Park. Although, since you have stumbled across this page you will have at least a passing interest. This slot machine is based around the 'on going' South Park episodes which involve the kids dressing up as superheroes. It is, essentially, a parody of the countless number of Marvel movies which are being released nowadays.
Join Coon and friends as they take on the evil Professor Chaos. The major South Park characters, in their 'superhero' guise will make random appearances throughout the game. Most of them talk or have some nifty animations associated with them.
There are a few different features in the South Park Reel Chaos slot. We are going to cover them in a short while. They are not going to trigger all that often, but when they do the potential winnings do tend to be big. That being said, the features in this game will trigger a whole lot more than in the previous game in the 'series'.
Once you hop into the game for the first time, there is not a lot that you must do. It will be a case of setting the number of win lines you want to play, as well as the amount that you will be betting per win line. It is simple stuff. After that, just hit the 'spin' button and hope for the best. You can also set the game to auto play if you are planning to have a few spins but are too lazy to hit the spin button on your own.
Bonus Rounds & In Game Features

There are a few bonus features built into the South Park Reel Chaos slot machine from NetEnt. As mentioned previously, you probably will not be triggering them all that much. In fact, when you do trigger them, you probably will not notice them as they are just incorporated into the base game. It is worth covering the various features in this section, however:
Cartman Stacked Wilds: This feature is randomly activated. Cartman will pop on the reels, climbing up and down them. As he does, he will be creating stacked wilds. This, basically, means that every symbol on that reel is going to become a wild. This can create some epic combinations.
Kenny Multiplier: Again, a randomly activated feature. Here, you will receive a multiplier from 3x to 5x on your current combinations.
Stan Multiplying Re-Spin: Randomly activated. The 5 reels will spin until you get a winning combination. There will be a multiplier attached to this combination. It will be 2x to 10x. There is a chance to win up to 1,212 times your initial stake.
Kyle: Kyle will be blasting minions with laser beams here. Up to five wilds will be put on the reels. This can lead to some huge wins.
Mintberry Crunch Epic Bonus Spins: If you get 3 bonus symbols on the first, third and fifth reels, this character will appear. The Mintberry Crunch will fight various minions until they are all defeated or he is defeated. You can earn a multiplier up to 4x here, as well as a cash bonus.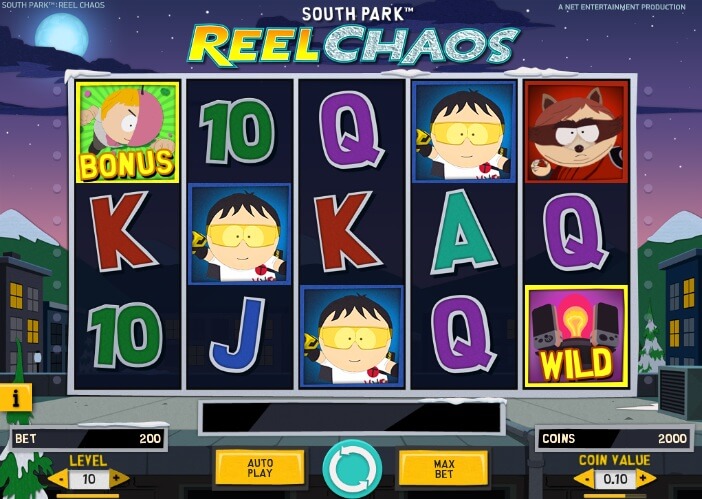 South Park Reel Chaos Mobile Slot
The South Park Reel Chaos mobile slot has just been released. We have played through it on a multitude of devices, as we do with all the slots that we review here, and we must say that it is fantastic. It is smooth. It looks great.
It just functions well. If you like to play your slot machines 'on the go', then we are sure that you are not going to be disappointed with this offering.
Summary – What Do We Think?
If you love South Park, and we are sure that you do, then you are going to have a whale of a time playing the South Park Reel Chaos slot. It is a huge step-up from the previous game.
The features are better, the wins are better, and it just looks better overall. We have no hesitation recommending this game to both experienced players and new players alike. It is just so much fun.
You can play the South Park Reel Chaos slot machine on any website which offers NetEnt games, check out our top online casinos below, which offer the best welcome package of bonuses and free spins you'll find any where online.
Other Top Casinos Which Offers South Park Reel Chaos Slot...